Oak has been a favoured material for centuries. Until now, many have incorporated oak into the modern architecture which, aside from the stability, also adds up beauty to the structure. Continue to read to find out more about the uses and benefits that we could get from green oak.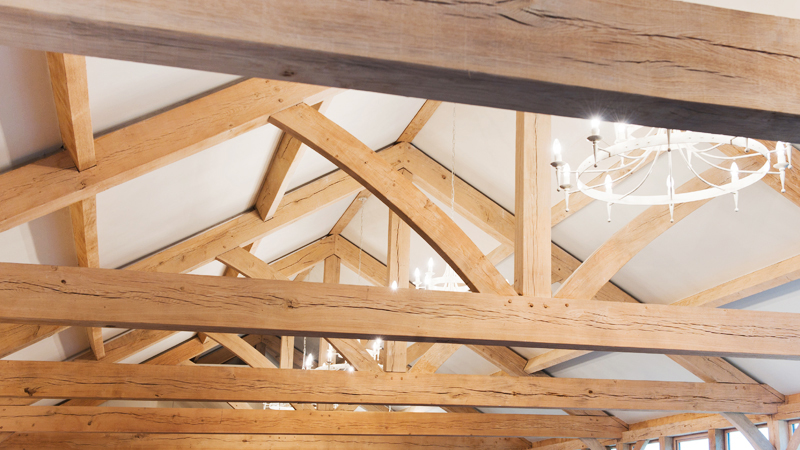 What is Green Oak?
Green oak is an unseasoned oak which has a lot of moisture content. These are fresh cut wood that has been clean cut in the last 3-6 months. A lot of carpenters or builders prefer green oak for the following reasons:
Durability. This type of wood is known for its durability, strength and its resistance to moisture. The older the oak, the stronger it can get.
Versatility. Because of its resistance to rot and from fungal attacks, oak is considered a versatile building material.
Appearance. Because of its elegance and beauty, oak is highly favourable for it adds that rustic feeling to a building or furniture.
Uses of Green Oak
Roof Truss. Oak trusses are now widely used to the interior of the building to create an attractive and unique look and can design in a way that will go to your liking. You can visit Shropshire and check their roof trusses.
Green Oak as a frame. Green oak is a better choice if you are looking for it from a practical perspective. Kiln-drying cannot economically reduce the core moisture content of any timber section thicker than that of 100mm. If you are going to put it in a kiln, most likely, it will damage the wood because of the drying process.
Since it is also better to cut and shape, green oak is pretty much prevalent in house construction for superior craftsmanship.
Furniture. Green oak suits as furniture material. You can create a bench out of the wood, and you can sit back and watch the furniture age beautifully. Being eco-friendly, you don't need to treat the timber with any chemical or preservatives making it maintenance free.
Oak Surround Fireplaces. You can also use green oak as a fireplace. With the natural beauty and warmth of a wooden fireplace, it can strike a focal point in any room, which can not only add up to that homey atmosphere but also add as an artsy part of the house. Try checking Colne Stoves and Fireplaces and review a variety of designs for your fireplace.
Beams and Flooring. Because of the high content of moisture found in green oak, a lot are using this wood as a beam, to be able to quickly design and cut it into custom shapes. Air dried oak beams develop a natural aging process which gives that distinct appearance with characterful splits and cracks.
Aside from being used as a beam; people now opt to choose green oak for their flooring. Because of its versatility and is one of the hard wearing timber, it will help add up to that clean look to your home.
Benefits of Using Green Oak
Longevity. It provides a long lasting structure. It will negate the need to replace any of the building components over time.
Carbon Neutral. Green oak is considered carbon neutral. As the oak grows, it absorbs the carbon dioxide, trapping them instead of releasing them in the environment.
Dry Build. It requires much less water in the in the building process, therefore, generating minimum construction waste. It also provides sound insulation, keeps interiors at a constant temperature, making it highly recommended for building houses.
Natural. It is advisable to let the green oak weather naturally. Meaning, very little maintenance is needed. You do not need to exert an extra amount of money and time to make the wood beautiful or strengthen it.
Conclusion
Using oak has many beneficial uses, either as a beam or firewood for your Stockport fireplace, flooring or furniture. With green oak, you are selecting a material that provides with a vast of ecological credentials. It is a win-win situation for you, not only are you offering your family a beautiful house that you know will last, but also helping the environment.